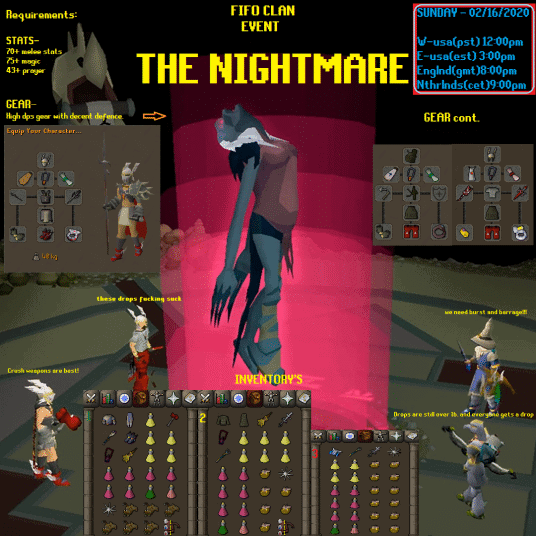 THIS IS A NEW BOSS AND ALL DROPS ARE NEAR OR OVER 1B!!
I will be offering a 5m pool to draw from for deaths, as dying currently cost 60k to get your items back. this will cover the cost for a total of 83 deaths so dont be afraid to come and learn.
EVERYONE WITH THE REQUIREMENTS IS INVITED AND WE ARE VERY INSISTENT ON ATTENDANCE. EVENT PARTICIPATION IS A BIG DEAL
RULES: This event is being hosted by me "ILL HELP YOU" and I have standards I expect you to follow.
I expect you will try your best.
I want any large drop to be traded to a Star rank immediately
I'm planning this event for 2 hours. if you are not present
(or banking to return) for a big drop, you won't get the split.
you must bring a mage switch and use burst or barrage is you are able.
don't leach.
don't complain. I really mean it… like if you wanna joke around, fine. but don't sit and complain about the event. odds are you're going to lose money, its about being with the clan and doing something with friends. when we look to promote and demote, we go based on your actions and attitude during events.
For more information on how the boss works you can reference Alec's guide.
ANY QUESTIONS HMU BEFORE SUNDAY!